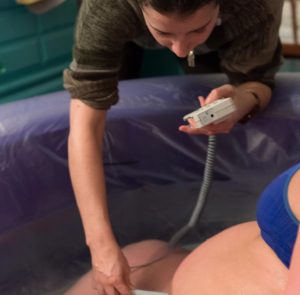 Up to date information on COVID-19 and your pregnancy
MASK WEARING: As of April 6th, 2023 it is no longer required to wear masks in medical settings. You are however welcome to wear a mask in the office, and you are also welcome to ask the midwife in attendance to wear a mask.
SICKNESS: While the worst parts of the pandemic seem to be over, it is my belief that we can learn from the experience and keep certain practices going. First and foremost, please do not come to the clinic if you are sick (even if it's just a cold) or if your children have recently been ill with a stomach bug. We can either reschedule your visit or change it to a virtual appointment. If a family member thinks that it is likely that they have COVID, and even if you are not sick yourself, please also refrain from coming to clinic.
SAFETY: We will continue to have a HEPA filter in the office to reduce transmission of any air-borne disease.
VIRTUAL CLINIC: We have found that having some virtual clinic appointments has been convenient and has allowed for more flexibility with scheduling. As such, intake appointments, and the 20 week appointments will remain virtual. Your 30 week and 34 week visit will be optional virtual appointments if you prefer them.
Our online video network provider is called Doxy.me. You will receive an email or phone call with details on how to use it. It is very simple to use and only requires you to sign in and wait for us to invite you into your virtual appointment. Please sign into the system 5 minutes before your appointment time.
PAPS: If you are due for your pap test, we will be resuming doing paps.
PARTNERS AND CHILDREN: Partners and children are welcome to come to office appointments. That being said, when it comes to your children being in attendance, please do not bring them if they are sick.  While we certainly are looking forward to having little helpers again assisting us when listening to your baby :), please also consider the value of attending some appointments on your own. There may be appointments where you anticipate having conversations that require depth and attention (such as mode of delivery, choice of birth place, mental health struggles, or you have lots of questions.) It can be challenging to have those conversations when children are present.
WHAT COVID RECOMMENDATIONS ARE STILL IN PLACE IF YOU GET COVID WHILE PREGNANT?
An US at 32 weeks is recommended for growth.
Home birth is not recommended.
Recommendations for electronic fetal monitoring during labor (EFM)
Virtual clinic visits for 10 days following infection if a visit was needed.
VISITOR/SUPPORT PERSON UPDATE IN HOSPITAL:
Siblings of newborns and a maximum of 2 visitors are welcomed back to the Maternity floor.
What does this mean?
ONLY siblings and 2 visitors over the age of 12 can visit at one time.
ONLY 2 visitors at a time. If you have more than 2, visitors will need to change out in the lobby of the hospital, NOT within maternity.
IMPACT OF COVID ON PREGNANCY/LABOR/NEWBORN
Vaccination does not provide 100% protection, nothing will, but it is our best tool at this time.
– There is no evidence of harm to fertility.
– Research thus far is showing it to be safe in pregnancy and while breastfeeding.
– Vaccination provides protection against severe disease (ie. ICU admission and ventilation) and death.
Covid infection in third trimester of pregnancy has been associated with increased risk of:
– Placental complications
– Low birth weight infants
– Fetal distress in labour
– Preterm delivery
– Maternal ICU admission
– Maternal invasive ventilation
As well as the risk with any Covid infection of developing "Long Covid", a series of ongoing respiratory, cardiac and neurological complications, the duration of which is uncertain.
Is there a small possibility that we will discover an unintended long-term consequence with this vaccine? Yes, that is possible but less likely than all of the above mentioned complications, if one is not vaccinated.
Long-term population wide data is not fully available, yet. I had a wise midwifery professor who used to say that where research is lacking or you have less research than you would like, such as those who are uncomfortable with the lack of long-term population-wide use, you should examine the physiology in order to determine the likelihood of benefit/harm from a given intervention. The science on which the mRNA vaccines is based dates back 2-3 decades and there is no physiological reason to believe it will do anything other than what is intended.
I respect everyone's right to an Informed Choice about their health care decisions. For me, Informed Choice should not be an individualistic pursuit of "the best choice for me" so much as a complex weighing of risks and benefits individually and as a collective. May we all care for one another and include each other in our decisions as we move forward. May we access loving-kindness. May we recognize our place in the human collective.
With love from your midwife, Carolyn