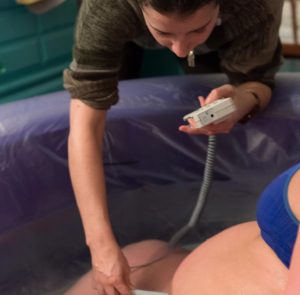 Up to date information on COVID-19 and your pregnancy
NOTHING IS MORE IMPORTANT THAN THE SAFETY OF ALL OUR PATIENTS –
PLEASE HELP US TO ACHIEVE A ZERO TRANSMISSION RATE IN OUR COMMUNITY
We deeply care about your health, the health of your baby, and our own, and as such we are doing the best we can to provide the safest care for you as possible! As ⁠Covid-19 information continues to change hour to hour, we are trying to keep you updated on what is happening at our clinic, and provide a synopsis of trustworthy information.
On our end, both professionally and personally, we are staying home as much as possible and socially/physically distancing ourselves and frequently sanitize anything and everything we come into contact with. At work, surfaces and equipment are being cleaned between every visit. We will not be offering beverages at appointments and magazines and children's toys have been removed. During your clinic/home visits- we will  be dressed in personal protective equipment to maintain safety. On your end, we respectfully ask you to: ⁠
⁠1) Minimize who you come into contact with and place a distance of 6 feet between you and others.
2) DO NOT come into the clinic with any symptoms of being sick. ⁠
3) Please do not bring family along to appointments including children. ⁠
4) Wash your hands before and after your clinic appointment. ⁠
5) DO NOT come early to your appointment. Remain in your vehicle until your scheduled appointment time. ⁠
6) Please take every health precaution recommended- wash hands frequently, disinfect touch surfaces throughout the day. Carry disinfectant in your car to sanitize your door handles, steering wheels etc after being out in public.
7) Stay away from social gathering places.
**As our health care system becomes overwhelmed with COVID-19 positive cases and the number of our valued health care workers begin to decline we will be called upon to help out other midwifery clinics and our physician colleagues in Fraser Valley. We ask you to PLEASE do everything possible to stay healthy, in order to not only reduce your chances of getting sick but to protect us and our colleagues from getting sick as well. This commitment will help you have a safe and healthy pregnancy and birth, with us as your midwives!.
UPDATES ABOUT APPOINTMENTS
At this time, the Refinery House is open, so the clinic is now busier, though still meeting the requirements for social distancing.
Appointments will be a mixture of virtual appointment, and in person appointments. Currently appointments remain between 15 and 30 minutes in length. If COVID numbers continue to go up significantly, in person appointments may return to being on the phone for the majority of your visit, with an in-person assessment to listen and measure the baby, and take your blood pressure at the end of your visit.
During in-person check ups, we will be wearing personal protective gear including gloves, masks, and goggles. This is for your protection to reduce rate of transmission from being in close contact with us. You are also requested to wear a mask for the protection of both of us.
Our new online video network provider is called Doxy.me. You will receive an email or phone call with details on how to use it. It is very simple to use and only requires you to sign in and wait for us to invite you into your virtual appointment. Please sign into the system 5 minutes before your appointment time.
The CMBC (the College of Midwives of BC) has now provided guidance for the schedule of visits. It is as follows:
Visit #1 – up to 12 wks (virtual visit)
Visit #2 – 14 weeks (in person)
Visit #2 – 20 wks (virtual visit)
Visit #3 – 26 wks (in person)
Visit #4 – 30 wks (in person
Visit #5 – 34 wks (in person )
Visit #6 – 36 wks (in person)
Visit #7 – 38 wks (in person)
Visit #8 – 40 wks (in person)
41 week visit if needed
Clients do have the option of not coming in for physical assessments until 36 weeks. Please be aware that if you chose to be seen virtually until 36 weeks, we are unable to assess the growth of your baby which may impact the management of your pregnancy.  
Please note that we will not be offering membrane sweeps or paps as these are not a critical part of care.
For postpartum care: 
Our hospital or clinic visits will be held at approximately:
Visit #1 & #2 – in Week 1 (in person at home)
Visit #3 – in Week 2 ( in person)
Visit #4 – Week 4 (virtual)
Visit #5 – Week 6 (in person)
If more visits are needed for weight assessment, a scale will be provided for you to weigh your baby. 
This can be adjusted if more care is needed by you and your new baby.
Many of you have been asking if you should be doing your blood work and going for ultrasounds. We are recommending people to proceed as normal with blood work and ultrasounds. Blood work and ultrasounds give us the information to guide your care and help to ensure the health of you and your growing baby are maintained.
New Provincial Covid-19 Symptoms Self-Assessment Website Launched
We are very busy fielding calls, emails and updates, before you call us with Covid-19 concern, please do this self assessment and check the recent Covid-19 updates, which may answer your questions first:
This site is updated as recommendations from the BC Centre for Disease Control evolve.
https://www.thrive.health/covid19
If you have been in contact with someone with COVID-19, or have symptoms of the illness, please set up a virtual appointment with your GP or let us know. Once you have been asked the pre-screening questions, you will be given a requisition which will allow you to be screened at the Centralized Community Testing Site in Chilliwack and Abbotsford.
DO YOU THINK YOU HAVE COVID-19?
Covid-19 – Symptoms
Incubation of Covid-19 is 1-14 days but mostly 3-7 days (average 5 days)
Most will get a mild respiratory illness: 89% fever; 68% cough; 38% fatigue; 34% sputum production (thick mucus when coughing); 19% shortness of breath; 14% sore throat; 14% headache
Recently, it has been reported that a percentage of people with COVID are experiencing Anosmia (the loss of smell and taste). You should self-isolate if you experience this symptom.
Uncommonly, there will be diarrhea and vomiting
Sore throat, runny nose, and muscle aches are uncommon.
It is safe for you to take Tylenol to help with pain and fever
If once you have done the self-assessment questionnaire, AND you feel that you are eligible to be swabbed, please go to the following website:
– www.abbotsfordcovidresponse.com .
DO NOT go to the site without having spoken to someone and made an appointment.
If you are experiencing a medical emergency, such as problems breathing, please call 911.
If you have health concerns, call HealthLink BC at 8-1-1.
UPDATE ON PREGNANCY AND AFTER THE BABY COMES
Below are some highlights:
Pregnancy
Pregnant patients are NOT more susceptible to contracting Covid-19. It is expected the large majority of pregnant people will experience only mild or moderate cold/flu like symptoms; however, they are more susceptible than the general population to get more severe symptoms.
We now know from recent studies that contracting COVID -19 does pose a risk to both the pregnant patient and baby.
In summary: pregnant people are more likely to develop pre-eclampsia (a potentially life-threatening condition if not dealt with in a timely manner), ICU admission, have a stillbirth, and caesarean section (if symptomatic).
Babies are more likely to be born premature, have a lower birth weight, and increased NICU admission.
Pregnant people who were symptomatic, were more likely to experience the above adverse outcomes.
Pregnant patients with mild COVID 19+ symptoms should be kept at home in self-isolation when possible. Take Tylenol to reduce fever.
Care should be done by phone or other Virtual health options.
Pregnant people should be advised NOT to come to hospital unless they are in need of urgent obstetric or medical care, such as preterm labour or inability to breathe.
While pregnant people with symptoms should self-isolate at home, if these symptoms are in the 3rd trimester, swab for Covid-19 and influenza.
If you are confirmed as having COVID-19:
Home care and quarantining yourself is appropriate if your symptoms do not require a higher level of care.
You will be required to quarantine for 10 days. During this time, your appointment (if you had one scheduled during that time, will be virtual).
Once out of quarantine, the Society of Obstetrics and Gynecologists recommends monthly ultrasounds to assess growth and well-being of baby.
Labour
Anesthetists (expert doctors who place epidurals, etc) are encouraging early epidural for labour pain relief in order to reduce the risk of giving a general anesthetic (GA) for an emergency cesarean section. GA allows for the highest risk of transmission of the virus. Of course, the decision to have an epidural, or not, rests with the labouring person.
Only one support person may accompany you in labour (a doula may also attend).
Nitrous Oxide is NOW permitted for pain relief in labour.
If you are confirmed as having COVID-19:
You will be required to deliver at the hospital.
It will be recommended that you are placed on electronic-fetal monitoring or EFM.
Early epidurals will be recommended.
Hydrotherapy (the use of water) may not be possible depending on the availability of PPE (personal protective equipment) as PPE becomes ineffective if wet.
Postpartum
There are no visitors allowed in the hospital during your stay
If the new parent is Covid-19 positive, keeping parent and baby together is recommended
New parent is to wear mask and utilize strict hand washing protocol for breastfeeding and skin to skin
Breastfeeding is encouraged because the protective effect of breastfeeding is particularly strong against infectious diseases through directly transferring antibodies and other important immune factors to the baby
Test infant for COVID-19 No isolation of infant from parent unless clinically indicated by disease severity
Where appropriate, early discharge of the baby with a parent or caregiver, should be facilitated
PLACE OF BIRTH
If your pregnancy remains healthy and you're considered low risk for complications during labour and birth at term (37-41 weeks), you may consider a home birth. For some people this feels like a safer choice. During this pandemic, choosing to stay out of hospital frees up space to treat the influx of patients infected with the CoronaVirus. However- if you are choosing to have a home birth, we will need you to strictly commit to self isolation and proper sanitization, for the month before your due date. For us, coming into a home, possibly infected with a virus will not only put our own health at risk but we can easily transmit the virus to the outside population. In keeping with safety precautions, we will be wearing personal protective gear into your home and while you birth and will discard these items when we leave. We currently have enough PPE to provide home births.
Please be aware that if you have tested positive for Covid-19 at any time in your pregnancy, you are not eligible to give birth at home.
If you have more questions around the place of birth we will be happy to discuss this more in detail during your visits.
VACCINATION AND  RESOURCES
With the vaccine now available, it is normal for families to have lots of questions. You may find the following helpful:
Here is a document that is intended for pregnant and breastfeeding people: 
http://www.bccdc.ca/Health-Info-Site/Documents/COVID-19_vaccine/COVID19_Vaccine_Perinatal.pdf
If you are looking for more research-like articles: 
Here is a statement from the Society Of Obstetrics and Gynecologists: 
https://www.sogc.org/common/Uploaded%20files/Latest%20News/SOGC_Statement_COVID-19_Vaccination_in_Pregnancy.pdf
Here is something from the CDC: 
https://www.cdc.gov/coronavirus/2019-ncov/vaccines/recommendations/pregnancy.html
WORK ABSENCE & EMPLOYMENT INSURANCE
As per instructions from the Minister of Health and the Provincial Medical Officer of Health, you will not need a note to miss work if you have symptoms: https://news.gov.bc.ca/releases/2020HLTH0077-000484
People in quarantine (including those who are not sick and those whose workplace is closed to enforce social distancing), can apply for Employment Insurance Medical Leave. You do not need a medical certificate from your doctor, NP or midwife:
https://www.canada.ca/en/employment-social-development/corporate/notices/coronavirus.html
If you are a pregnant health care worker
https://www.rcog.org.uk/en/news/updated-advice-for-pregnant-healthcare-workers-and-employers-during-coronavirus-outbreak/
COVID-19 – HELPFUL LINKS FOR GROWNUPS
How you can help protect your health care worker
https://www.newyorker.com/news/news-desk/keeping-the-coronavirus-from-infecting-health-care-workers
Anxiety Canada
https://www.anxietycanada.com/articles/what-to-do-if-you-are-anxious-or-worried-about-coronavirus-covid-19/
Calm – Take a deep breath. Train your mind to sleep more, stress less and live better https://www.instagram.com/calm/?hl=en
Talking to your kids about coronavirus and social distancing
https://www.forbes.com/sites/tarahaelle/2020/03/18/talking-to-your-kids-about-coronavirus-and-social-distancing/#45a594d32c15
I visited 18 countries today – how about you?
https://www.messynessychic.com/2020/03/19/i-visited-18-countries-today-how-about-you/?
If you are on FB, here is a link to a very useful article on taking care of your mental health.
20 things to do at home instead of banging your head against a wall
https://www.messynessychic.com/2020/03/12/hobbies-at-home/
COVID-19 – HELPFUL LINKS FOR KIDS
Pluto the Dog's Message to Kids – we are following Pluto!
https://www.youtube.com/watch?v=eiBYw3bDFro
Cats teach kids how the virus spreads https://twitter.com/ziyatong/status/1240303392188248070
Children Stuck at Home Can Still Explore the Zoo or Aquarium. Some Penguins Could, Too.
https://www.nytimes.com/2020/03/18/us/coronavirus-zoos-webcams.html
If you are on FB, here is a great link on things to do with kids.
With children home for potentially longer than anticipated, you may be wondering what to do with your kids. Here is an AMAZING and LONG list of things you can do.
Please keep checking our IG and FB feeds for the latest updates, as well for local reliable resources to pull information from. We are trying our best to stay on top of the ever changing situation.
Stay healthy and safe, and rest in a place of hope and love, and together we will ensure we get through this challenging time.
With love from your midwife, Carolyn